Experience an unforgettable and relaxing farm holiday in Castelrotto
Welcome to the farm Radauerhof. We are pleased that you have found your way to our website! If you wish to spend a pleasant and relaxing farm holiday in Castelrotto, you've come to the right place! Our farm is nestled in a beautiful mountain landscape at an altitude of 1150 meters. The lush green meadows all around glow with soothing calm – it's a wonderful place to forget your everyday life and simply unwind. The charming village of Castelrotto is only 1.5 km away, so take a stroll through the picturesque town centre or visit a quaint local restaurant. Furthermore, there are many exciting attractions in the near surroundings, waiting to be discovered by you.
Wellness holidays in South Tyrol
Radauerhof Castelrotto
The Chalet Silvester hut was newly built in 2022.
We look forward to welcoming you in the new hut.
The Chalet Silvester hut was newly built in 2022.
We look forward to welcoming you in the new hut.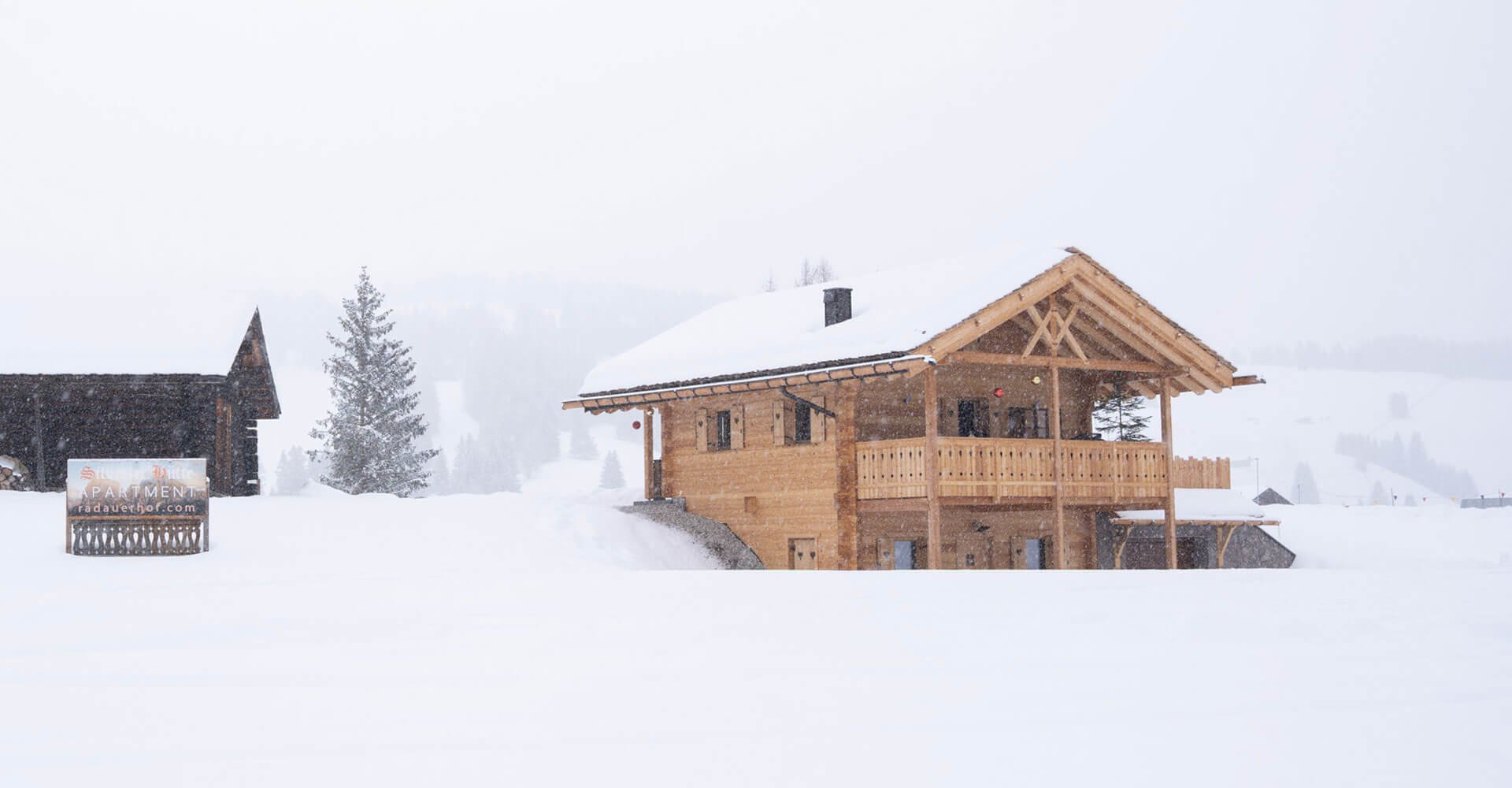 Amidst a beautiful nature reserve, at an altitude of 1720 meters, our quaint lodge on the Alpe di Siusi invites you for delicious home-cooked South Tyrolean cuisine…
Amidst a beautiful nature reserve, at an altitude of 1720 meters, our quaint lodge on the Alpe di Siusi invites you for delicious home-cooked South Tyrolean cuisine…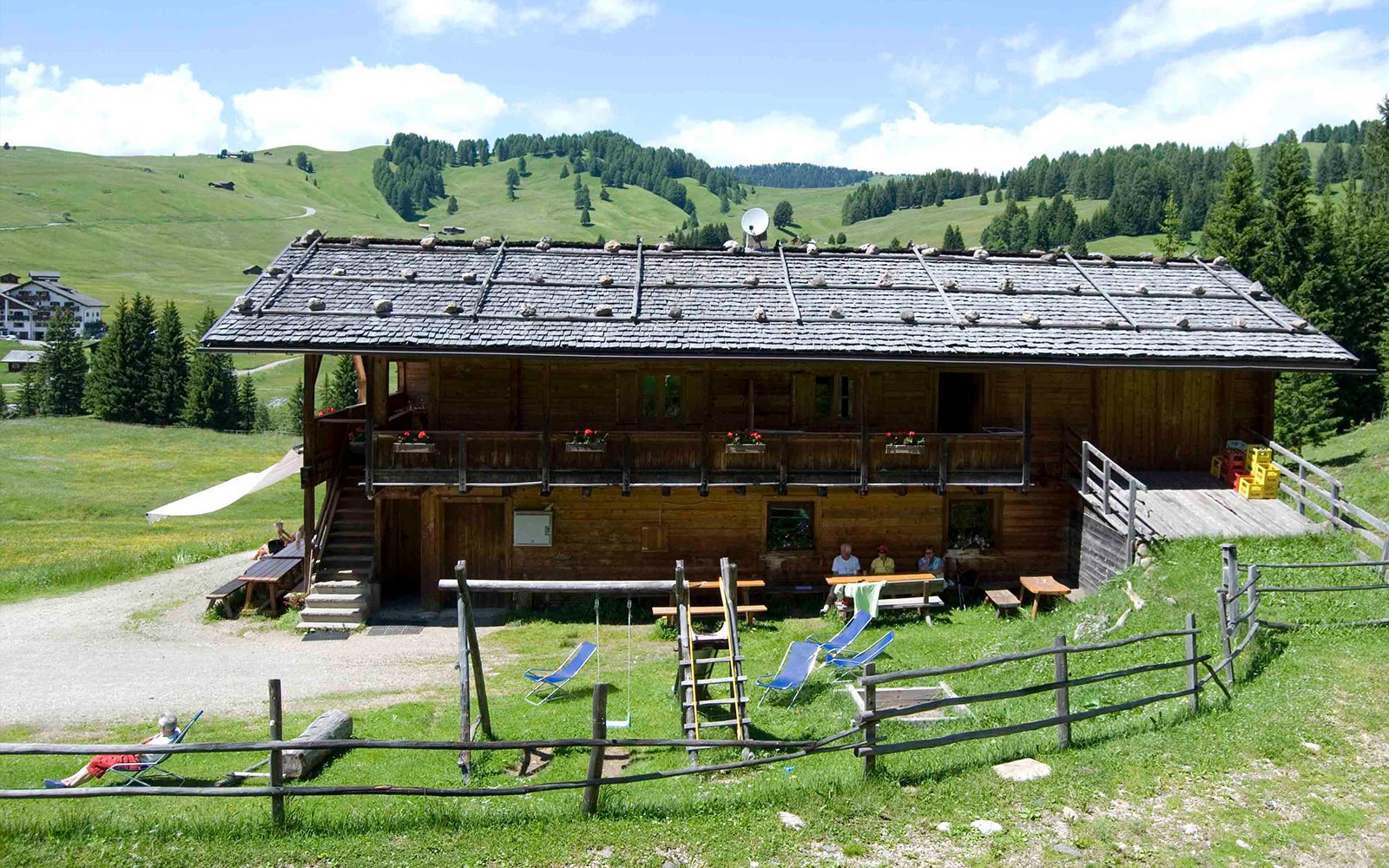 Holiday apartments in Castelrotto
Your South Tyrolean home
Your holiday apartments for a
dream vacation on the farm
On our farm you will find a total of 5 snug and newly furnished holiday apartments that all year round offer space for two to eight persons. Some of the apartments even feature four-poster beds and a cosy loft – they are ideal for couples, small groups, as well as for families with children. Upon request, we also provide toddler equipment (high chair, potty, crib, stroller, baby carrier backpack). In the surroundings of our farm there are wonderful recreational facilities that will turn your stay into a unique experience. For example, a great playground, where your children may play and romp freely, while you can wonderfully relax in our year-round heated hot tub in the garden. Of course, we also offer delicious home-made products from our farm. You can also look over our shoulders or help us with our work. Whether you are working in the farmhouse or in the summer at the hay or simply in the herbal and vegetable garden. In the winter we like to make a ski trip with our guests or a hiking tour in summer. In case of bad weather, we simply explore the passes of South Tyrol, or make a small or large Dolomite round trip. Or we stay at the farm and show our skills in the kitchen baking bread or cakes. With the children we like to make our beautiful pastries, which are also a great souvenir for the home. Then you can decide.
Joys of summer
in South Tyrol
Magic of winter
in the Dolomites
Farm holiday and Alpe di Siusi:
a combination that simply fits!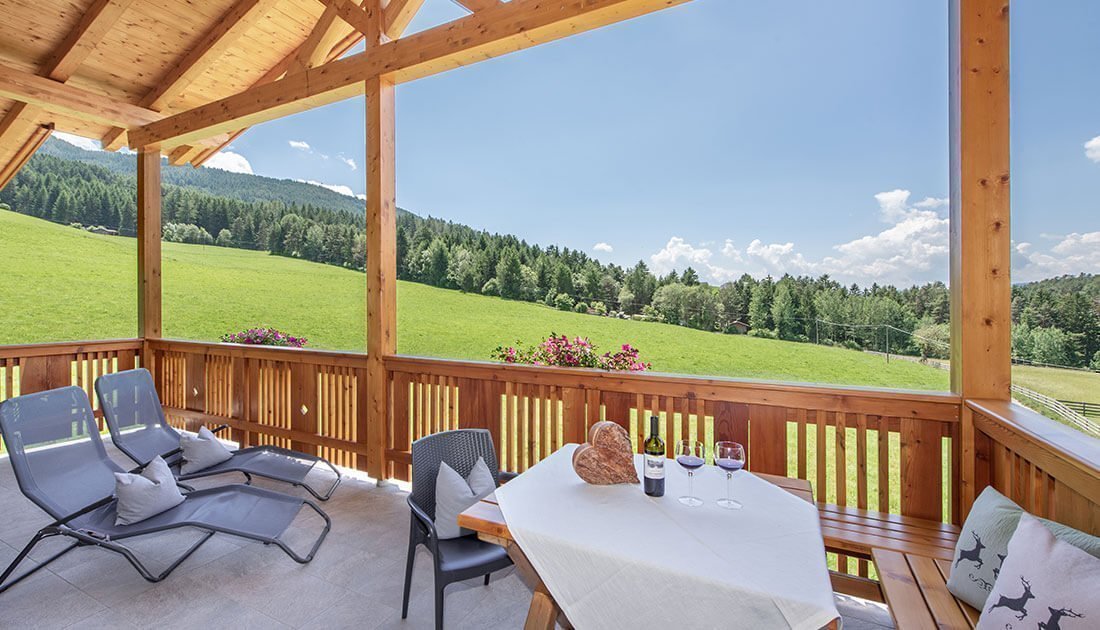 If you are longing for a relaxing vacation in a holiday region with charming, peaceful surroundings, a farm holiday just below the Alpe di Siusi is the perfect solution for you. Here, together with your family, you may experience firsthand the rural life on a typical South Tyrolean farm. Help us feeding our animals or create beautiful figurines from fresh fragrant hay that you may take home as a souvenir. Breathe in the scent of the fragrant herbs in our farm garden and taste the delicious jam that we make on our farm for you. Our little guests may romp freely, pet our adorable kittens or have great fun in our big adventure sandbox!
Your farm holiday below the Alpe di Siusi
will be an unforgettable experience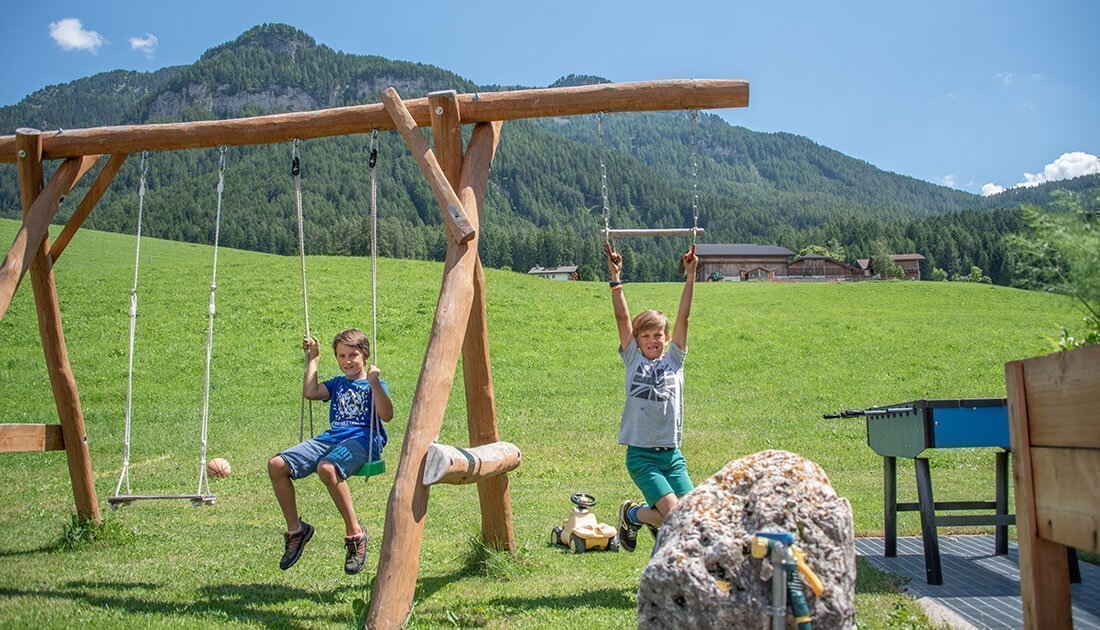 How about an exciting game of table football or a hike to the fantastically beautiful Alpe di Siusi? There is certainly no space for boredom during your vacation, because around our farm there is so much to discover. You may help us with our daily farm work, and in the winter we offer a toboggan rental service: during a hearty breakfast, every morning you may make new plans for your vacation day! If you visit us in the cold season, you may use the ski room with boot heater in our basement. In the summer you can sunbathe on our large lawn, while the children have fun with our toy tractors or play a game of basketball. Doesn't that sound like a dream vacation? A farm holiday on the Alpe di Siusi is a perfect choice for young and old!
The Trockers
welcome you heartly
May we introduce ourselves? We are the Trocker Family, with Werner, Elisabeth, Armin, Alex and David – and we manage the farm Radauerhof with great passion and commitment. In the stable of our dairy farm near Castelrotto there are about 30 milk cows and 20 calves. Our milk is processed at the BRIMI Dairy Farm in Bressanone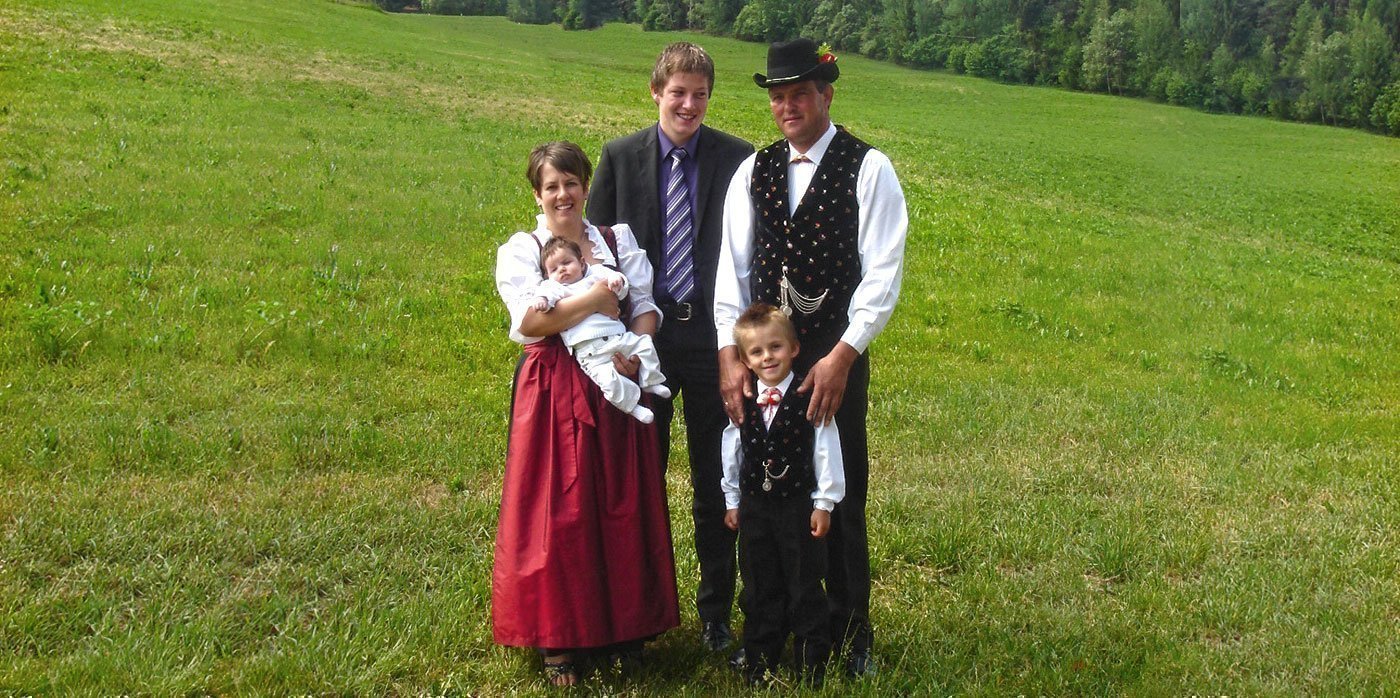 In our recent farm history, much has happened: In 2009, we took over the farm Radauerhof from our parents Gottfried and Josefa. In the years before and after, there were many renovations around the house and farm. In 2007, the apartments PATRICK and TAMARA, which are located in the old farmhouse, were renovated. In 2008, we built a woodchip plant for hot water and heating. In 2010, we demolished and rebuilt the farm buildings. In 2011, a photovoltaic system was installed on the roof to produce electricity using solar energy.
In 2013, the apartments ARMIN, ALEX and DAVID were rebuilt, with a spacious garage in the basement. In 2019, we created a small but nice spa area, a children's playroom, and a ski room on the ground floor. The boys ARMIN (1992), Alex (2005) and David (2010) help us at the farm with joy. But they also look forward to new playmates. Here, you and your children may leave the stress of everyday life behind. You are welcome to accompany us during our work around the farmyard or even lend a hand, if you feel like it.
Our machine park: "Same Minitaurus, Same Explorer, Fendt Vario, Front Loader, Gruber Hay Loader, Rotary Horseman, Pöttinger Rake, Fella Rotary Mower, Manure Cage Bauer, Trailer, Livestock Trailer, Silo Bale Wrapper, Mower, Mixer, Winch".